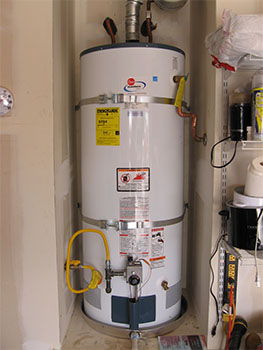 When a water heater is installed in your home, it gives you extra comfort and convenience; you get to bathe with hot water at any time, and in any season, a snowy day, a cold morning, and a rainy night. You get to take care of your laundry and dishes with ease, because you have the privilege of turning on a hot water faucet at any time and seeing hot steamy water always ready for use.
Most people now depend on a water heater for all their hot water needs, thanks to the easy access to hot water. And for good reason, if you've ever had to boil water on a stove to take a bath or do your laundry, you'd never want to leave the comfort that a water heater provides. And like any other machine, your water heater requires maintenance from time to time if it is to function properly for a long time.
Some people don't even remember where their water heater was installed; they don't care about their water heaters, as long as it continues to bring in the much needed hot water. Until a day comes when someone wakes up early on a cold morning and walks into the shower expecting to have the usual hot bath he has been having for a long time, but instead gets a jolt of ice cold water, then the real panic sets in.
Depending on the kind of water heater you use, most water heaters start showing signs of trouble way before it finally breaks down. But because you're probably too busy to notice, or you due to careless attitude, you do not seem to notice. Until it finally breaks down and the panic sets in, and you have no choice but to have it replaced.
When you're having a problem your water heater breaks down and you need a replacement, you can always count on us to take care of it, because our water heater specialists are capable of providing safe installations for your water heaters. It doesn't matter what kind of water heater you use, whether it's a tankless or a tank storage, an electric or gas water heater, our water heater technicians will get it installed, restoring your hot water supply in no time.