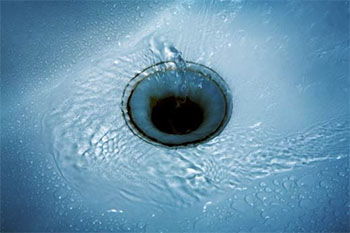 The sink doesn't work anymore, and now has a pool of dirty water, that just wouldn't go down the drain, it has been showing some signs of clogging, and you've tried using hot water, and a plunger to get the drain running again, but it just didn't seem to be getting the clogs off. Now the sink is blocked, filled with dirty water, and your beautiful kitchen has now become a mess. Worse, you have a very demanding job and you can't find the right time to take care of it.
The unfortunate situation listed above is just one of the many problems home owners have to face, when trying to cope with a clogged drain. In most cases the drain becomes totally blocked thanks to the crude and ineffective methods people use, when trying to unclog the sink themselves. They forget one very simple fact, drain cleaning is a very serious business, and should only be handled by trained professionals.
It really would have been easy to get the clogs off if it was just a straight pipe, but unfortunately the network of pipes that make up the plumbing system in your home are usually quite complex, having a lot of bends and twists, so taking care of the drains yourself would have very little or no effects at all, and you may even come in contact with harmful bacteria and some diseases that are usually found within the drains.
So when your drains become clogged, you should call on us, because we at Plumber TX, we are capable of taking care of your drains. Having all the needed equipment and trained personnel required to efficiently unclog and clean your drains, it doesn't matter how complex your drains are. With our modern equipment and well trained plumbers your drains will be cleaned up in no time. Our drain cleaning services include:
Clogged sinks and showers: the usual culprits include food particles, dirt, bones, fat, grease, soap scum, and a whole lot more. These things deposit themselves on the walls of the drain pipe, until the pipe becomes totally blocked, and waste water is unable to pass through. Our expert plumbers will take care of it in no time.
Clogged Toilets: a clogged toilet can be very embarrassing, and can cause a lot of discomfort at home. Our plumbers who know their jobs very well, are very much able to get rid of the clogs, and restore your toilet to its original state.
Whatever may be wrong with your drains, whether it's an indoor drain, or an outdoor drain, whether it is broken and in need of repairs, or clogged, our expert plumbers will always be ready to take good care of them.