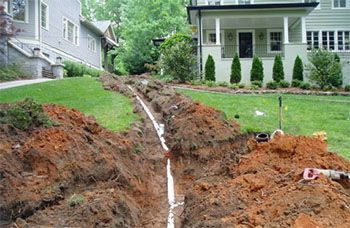 The drain in your home, serves a very important function, they take away all liquid waste from your home, from the waste water in the kitchen, all the way down to the waste of the bathroom and toilet, which ends up in the main sewer line, which takes the waste away from home.
And when something happens to the main sewer line, it becomes a serious problem, needing the attention of a professional who can diagnose the problem and take care of it. This is because every single drain in your house from the kitchen sinks to the toilets and bathrooms, all empty into the main sewer line.
And when it comes to your sewer repairs, which better people to call than your trusted Plumber TX. Our experts understand the seriousness of having a problem with the main sewer line of your home, and have what it takes to fully tackle any problem that might be wrong with your sewer, and this may include:
Blocked Sewer Line: this is usually one of the most common problems of a sewer line, and it is usually caused by tree roots, which find their way into the sewer, forming a wall which hinders the passage of waste water from the drains. This usually results in frequent and multiple clogged drains, overflowing toilets etc. In your homes.
Broken sewer: a broken sewer is another big problem that could occur, especially when it happens under concrete, and could eat up the foundations of your house, resulting in damages worth thousands of dollars that may not be covered by insurance. It is usually characterized by the lingering smell of sewage, and would require replacement of the pipes, so when it does happen, contact us.
Sewer inspection and replacement: when the sewer lines become broken beyond repair, the best thing to do would be to have it replaced, and our plumbers have all it takes to get the job done.
So whatever may be wrong with your sewer line, know that you can always count on us to take care of it, and restore your drain system.