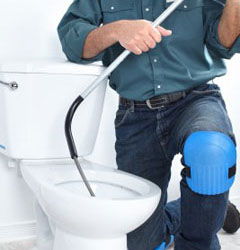 There is nothing as irritating as using a toilet and after trying to flush, the water and all its content just fills the bowl and just wouldn't go down the drain. You've tried using a plunger several times, but the same thing keeps happening over and over again, and now your once clean bathroom is now in a complete mess.
Of all the fixtures and appliances at home, the one thing every home owner fears is having a bad toilet. A bad toilet can be very irritating, and can cause lots of inconvenience and discomfort in a home. Trying to fix the problem yourself usually has little or no effects at all, and you just might end up falling sick after exposing yourself to germs and bacteria. So the best thing do when you have a problem with your toilet would be to call a professional.
At Plumber TX, we can take care of your toilet problems as quickly as possible, it doesn't matter what kind of problem you may be having with your toilet, and we are fully capable of providing a long lasting solution. This may include:
An overflowing toilet: this is usually the most common problem faced at home, and it certainly is one of the most irritating. They are usually caused by clogs, and using a plunger usually has very little effects when trying to get the clogs off. When your toilet overflows, call us and we'll have it fixed.
Loose handles: the lever situated at the tank may become loose, and making it difficult to flush the toilet. When you're having a problem like that, a single phone call to us, and someone would be there to handle it.
Leaky Toilet: this happens when water seeps from the base of the toilet bowl, and you always find water on the floor of the toilet. Usually happens when your toilet has become loose, and it's no longer as tight as it used to be to the ground. When you're having a leaky toilet, call us.
Toilet installation and replacement: when the toilet in your home becomes broken, probably due to an accident, you would definitely need a replacement. Just contact us, and someone would be there to see to it, that your toilet is restored.
So whatever might be wrong with your toilet, whether it makes some funny sounds, or it wouldn't flush properly, whatever it may be, we will have it fixed.